These Winter Dot Painting worksheets are a great mess free, low prep activity to keep kids busy this winter when it's too cold to play outside.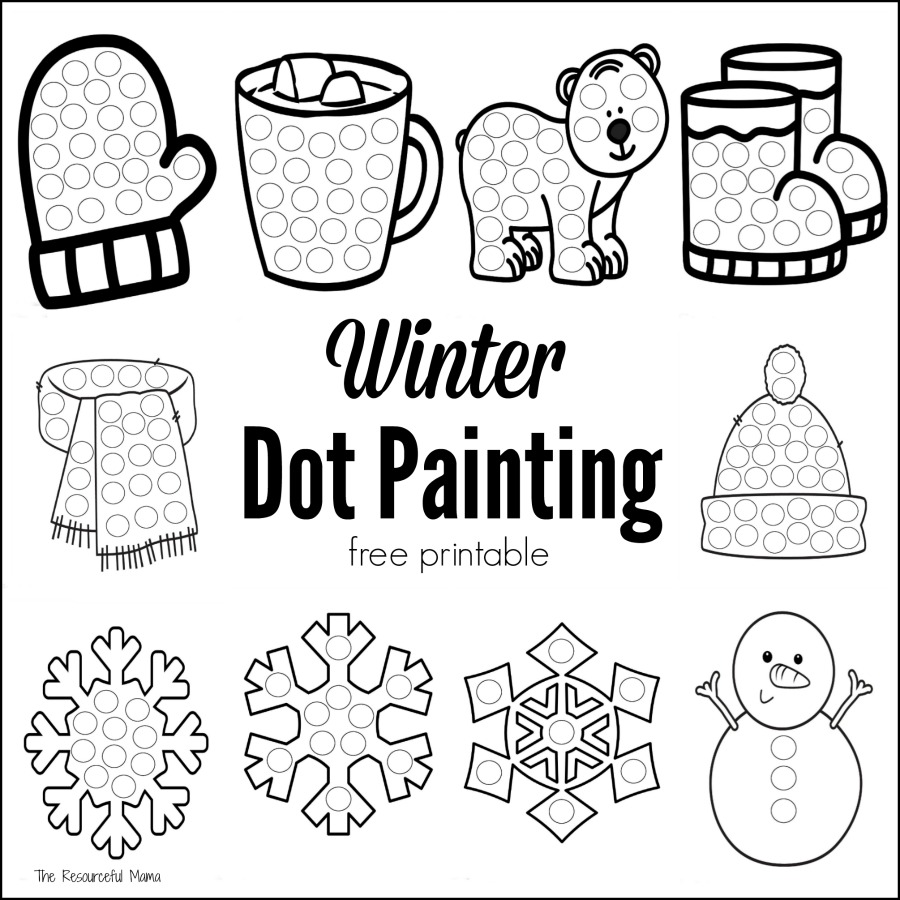 GETTING STARTED
This post contains affiliate links. See my Disclosure Policy for details.
I love how quickly you can set your kids up with these dot painting worksheets. There's minimal prep required to get started.
This Winter Dot Painting set includes ten black and white worksheets: mitten, hot coca, bear, boots, scraf, hat, 3 snowflakes, and snowman.
Download and print these Winter dot painting worksheets on regular 8 1/2 x 11″ paper.
We use Do A Dot Art! Markers for dot painting.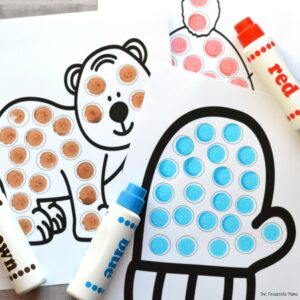 If you don't have Do a Dot Markers, you could also use Bingo Markers or Pom-Poms. Use a clothespin and squeeze a pom pom for a DIY pom pom dot maker.

I also had a reader on the fall dot painting worksheets suggest filling in the dots with round stickers. I loved this suggestion! It's makes these worksheets more portable and useful for times when you need a quiet activity to keep kids busy like doctor appointments and dining out.
BENEFITS OF DOT PAINTING
These dot painting worksheets offer several benefits to kids and students. Besides being mess free, dot painting also helps kids develop hand-eye coordination as they direct their marker to the spot on their paper. Kids strengthen fine motor skills as they hold the dot markers and move their hands to apply the marker to the paper.
Do A Dot Art Markers, are especially great for little ones. They are chunky, making it easier for their little hands to easily grab and manipulate.
We have had our Do a Dot Markers for a few years and they still work great!
SHARE YOURS WITH US
We love hearing and seeing how much you are enjoying our dot painting worksheets, tag us in your photos on Instagram, Twitter, and Facebook.
More Dot Painting Worksheets