I love getting creative with the kids' Easter baskets, but don't like to break the bank doing it. I turn to one of my favorite stores, the Dollar Tree, to help fill the kids' baskets.
This post contains affiliate links. See my Disclosure Policy for details.
I have created six different Easter baskets for various age groups with items purchased at the Dollar Tree. Tradition at our house is to receive a chocolate bunny and jelly beans in your basket and with the rest non-candy items.
---
The first basket I put together is for a school age girl. I found 11 items to put in the basket. There is a lot more to choose from including kites, eye shadow, and nail polish to name a few. Including the cost of the bucket (which will provide hours of fun play in the sandbox this summer), the cost of this Easter basket is $12.
---
This next basket is for a school age boy. I have a 2nd grader and I thought of what he might like when putting the basket together. This basket has nine items plus the basket, so the cost is $10 (everything at the Dollar Tree is $1).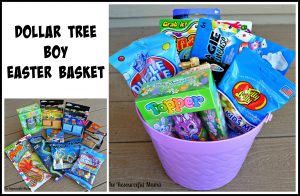 ---
The next basket is for a preschool age girl and cost $9. Some of the items can be unisex such as the crayons and the paper.
---
This basket is good for a preschool age boy and cost $10. Some of these items might be more suitable for an older preschooler. I have a 3 year girl and 5 year old boy and thought of what they would like when putting together these two preschool age baskets.
---
The next basket is made for a toddler either boy or girl. Many of the items can be used for different age categories. The coloring book, paper, and crayons were all used in girl preschool basket. The duck and ball are used in the next basket for baby. This basket cost $8 at the Dollar Tree.
---
The next basket was put together for a baby and cost $7. Babies can be hard to put a basket together for Easter. They have no idea what Easter is or an Easter basket. If the Easter bunny brings a basket for one kid in our household, he brings for all the kids (just not as much). I tend to think of essentials such as shampoo, wipes, socks, and washcloths.
You also might like