The Elf on the Shelf has become a favorite holiday time tradition at our house within the last few years. I start our Elf on the Shelf Planning early to avoid any additional stress later in the season.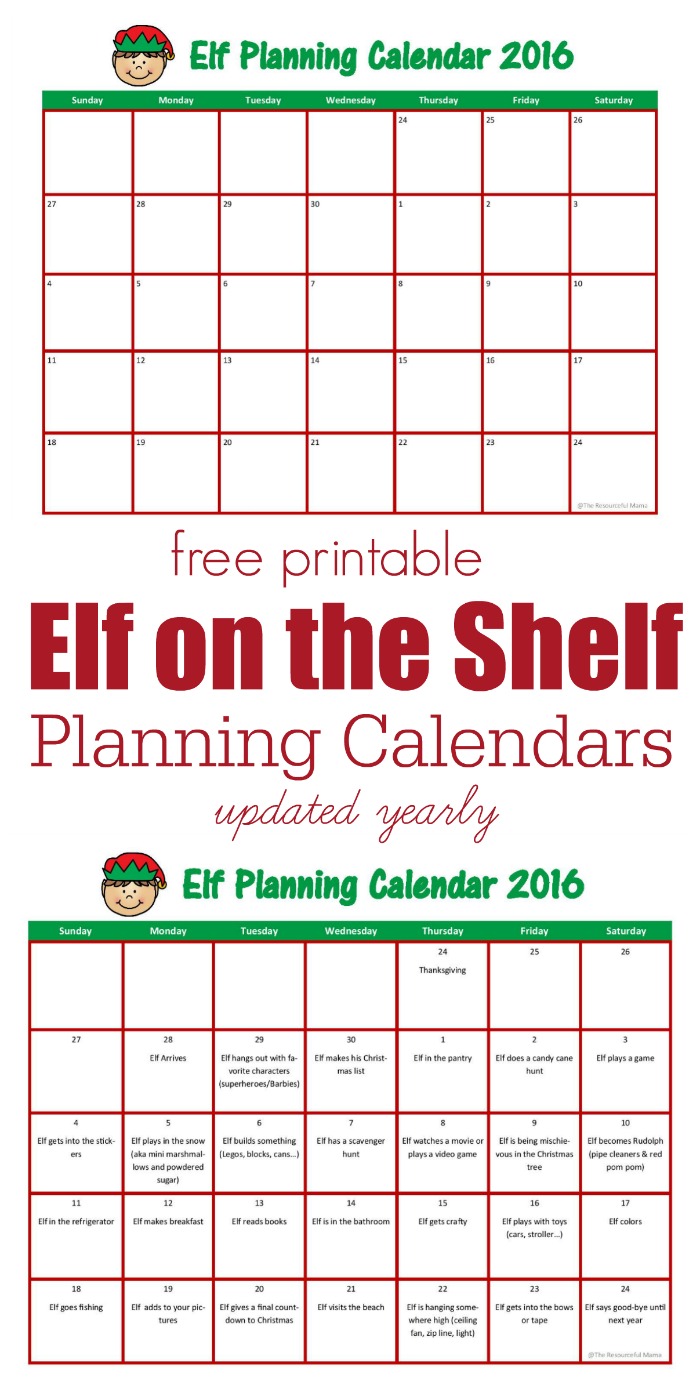 I remember the Elf showing up about mid December the first year we had him and moving around a few times before he returned to the North Pole with Santa on Christmas Eve. Our kids loved the Elf immediately. They would jump out of bed excited and energized each morning and ready to find their Elf.

This post contains affiliate links. See my Disclosure Policy for details.
I was quickly convinced that this Elf was a keeper. I still was not convinced he needed to spend a month with us. Christmas is a busy time of year. I couldn't imagine adding one more thing to our to do list!
The next year our oldest returned from Thanksgiving break to find a class Elf. This lead to a lot of stress about when his Elf was showing up. Needless to say, our Elf shows up promptly on the Monday following Thanksgiving every year.
We have a good time with our Elf, John Fletcher. John Fletcher gets into his fair share of mischief at our house. The kids wake up every morning excited and anxious to see what John Fletcher has been up to while they were sleeping.We have a lot of fun with John Fletcher, but there's a lot days from Thanksgiving until Christmas.
We always start out with gusto and then quickly run out of steam. I have found that planning our ideas out of ahead helps tremendously. It alleviates the last minute stress of trying to figure out what the Elf is going to do when all you want to do is fall into bed.
Elf on the Shelf Planning Calendar
I've created a calendar this year to keep us organized and diligent with our Elf duties. We won't be stumbling around trying to come up with a quick excuse as to why the Elf didn't move. We have every day planned out from the Monday after Thanksgiving until he leaves on Christmas Eve with Santa. Plus I have linked an idea or two or more to go with each day.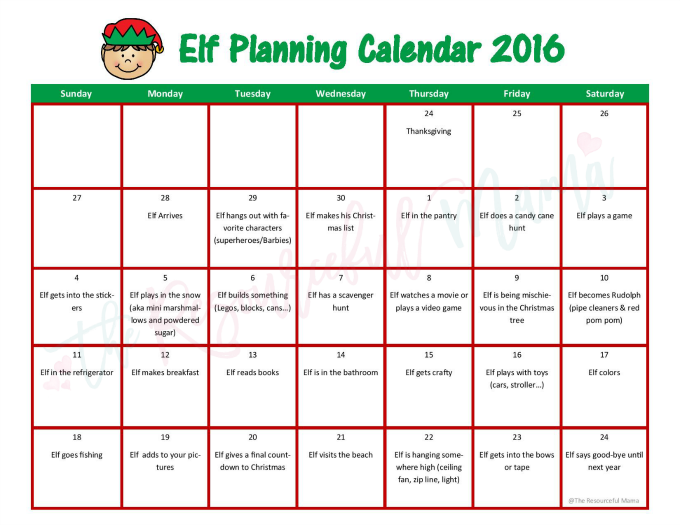 I'm also including a blank calendar if you would prefer to plan out your own Elf activities.
Download and print these calendars on 8 1/2×11″ white paper.
Related: Dear Santa Letters (free printables)
Elf on the Shelf Ideas
This ideas will help you turn your basic ideas on the planning calendar into reality. (Click on the highlighted words for more information.)
Elf arrives (coming soon)
Elf plays a game: Twister, Candyland, Operation
Elf plays in the snow: snowball fight with Mr. Potato Head, snowball fight with TMNT, sledding with Captain America
Elf builds something: Lego house, Lego tree, Jenga fort, Snowman from cars
Elf has a scavenger hunt (coming soon)
Elf watches a movie or plays a video game
Elf is mischevious in the Christmas tree
Elf reads books: a lot of books, book tower
Elf gets crafty
Elf plays with toys: here and here
Elf colors (free printable coloring sheets)
Elf adds to your pictures: a lot of Elf in the frames, draws on the pictures
Elf gives final countdown to Christmas: countdown chain, countdown on a message, printable card
Elf hanging from ceiling: zipline, hiding on a light, hanging from a ceiling fan
Elf gets into tape or bows: trying on hairbows, hangs bows & ribbon from the ceiling
Elf says good-bye (coming soon)

Just in case you forget a night: 15 Reasons Your Elf Did not Move
Download Elf on the Shelf Planning Calendar