This Fall Snack Mix is super easy to put together and these bag toppers make it extra festive for school snacks and fall acivities.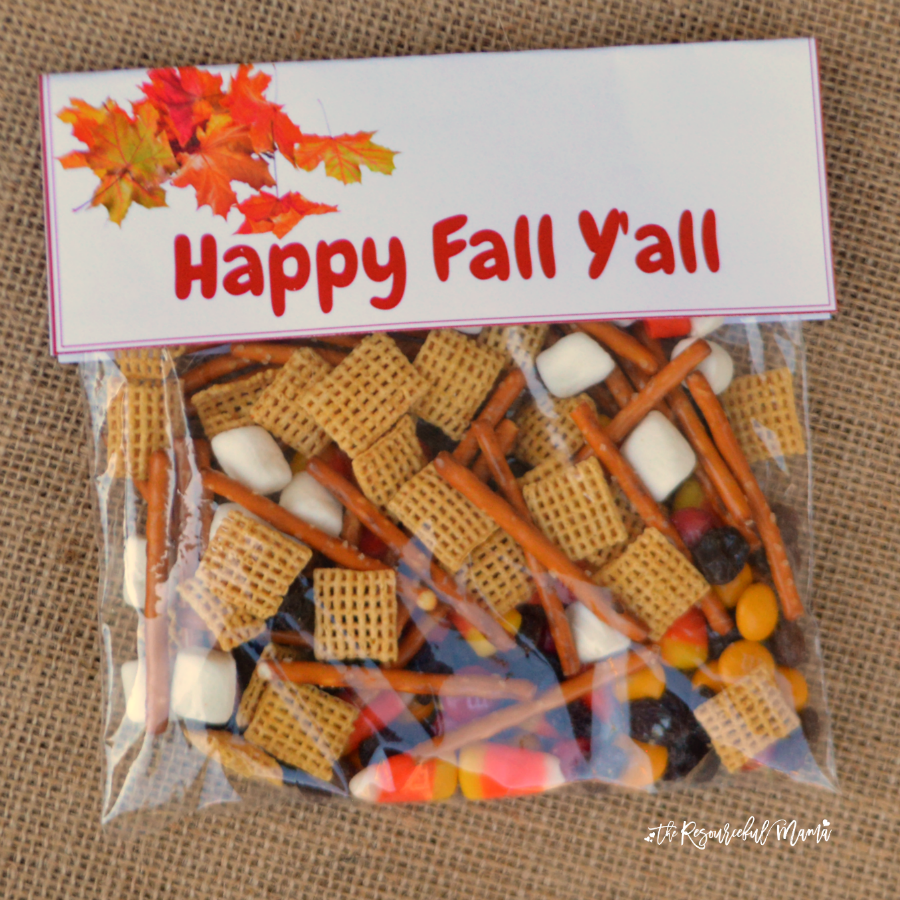 This post contains affiliate links. See my Disclosure Policy for details.
These Fall Snack Mix Treat Bags were perfect last week when our middle son needed a snack for his class on the same day that older brother needed cupcakes for his class birthday party. With cupcakes to make, I needed something easy for the other child's class.
This snack mix was perfect for making snack bags. This label fits great over a sandwich baggie.
Printable label: Happy Fall Y'all
For printable version of the recipe: Fall Snack Mix.
Ingredients
Chex Cereal (12oz box)
Pretzel Sticks (160z bag)
Miniature Marshmallows (10oz bag)
M&M's Fall (11.40oz bag)
Candy Corn (18.5oz bag)
Raisins (12oz box)
Directions
The directions are very simple for the snack mix! Are you ready? Mix all ingredients together. That's it, super easy and quick!
The snack mix is also versatile. You can easily adjust ingredients and amounts. Also try peanuts, chocolate chips, Reese's Pieces, marshmallow pumpkins, or butterscotch chips
Once you have the snack mix ready, add it to sandwich sized baggies. Fold the treat bag lable over the top of the baggie and staple around the edges or add tape to the underside of the label to hold in place.