Rudolph the Red Nosed Reindeer is almost as much a part of Christmas as Santa is. He is definitely a favorite at our house. Rudolph the Red Nosed Reindeer is among the many Christmas movies we watch every year. We also have the book and after reading it recently we decided to pull out our craft supplies and make a burlap reindeer ornament that looks a lot like our favorite reindeer.
This reindeer ornament is a great one to do at home with your kids or set up in a group. They are quick and easy to set up with just a few craft supplies and glue.
Supplies
This post contains affiliate links. See my Disclosure Policy for details.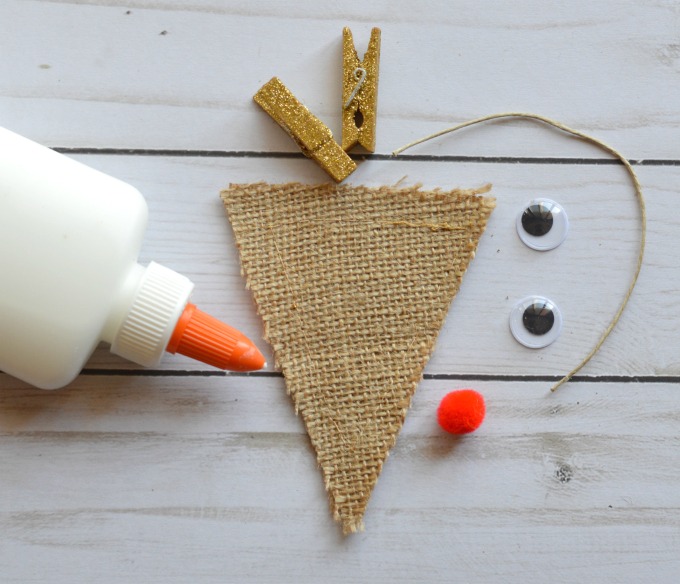 We used gold glitter mini clothespins that I had picked up previously as part of a set and had in my craft box. I felt they were the best size from our collection of clothespins for our reindeer's antlers. They are 1.5 inches tall. If you are wanting the gold glitter look you could paint mini natural clothespins gold and add gold glitter. You could also paint them brown or just leave them natural.
Directions
1. If you have the premade triangles like we did, you can skip this step. If not you will need to cut your burlap into small triangles.
2. Glue two googly eyes onto the burlap and a red pom pom for the nose.
3. Add two small clothespin for the antlers.
4. Form a small loop with the twine (or string) and glue to the back of the reindeer ornament to hand the ornament.
5. Hang from the Christmas tree and enjoy or give it as a gift.
More Ornament Inspiration
Join our Facebook Homemade Kid Ornament group for more Christmas ornament inspiration and follow our Christmas ornament board on Pinterest.

See all of our homemade Christmas Ornaments here.
You Also Might Like