This post contains affiliate links. See my Disclosure Policy for details.
The Elf on the Shelf
has become a huge Christmas time tradition at our house. The kids are always anxious for our elf, John Fletcher, to arrive and then eagerly jump out of bed each morning following his arrival to find out what kind of mischief John Fletcher got into while they were sleeping.
I have to admit that I was hesitant to warm up to the idea of the Elf on the Shelf. Our weeks leading up to Christmas were already full of Christmas traditions, but I fell, hook, line, and sinker!
We now plan out John Fletcher's activities using our Elf on the Shelf Planning Calendar and have even purchased clothes and pets for our elf.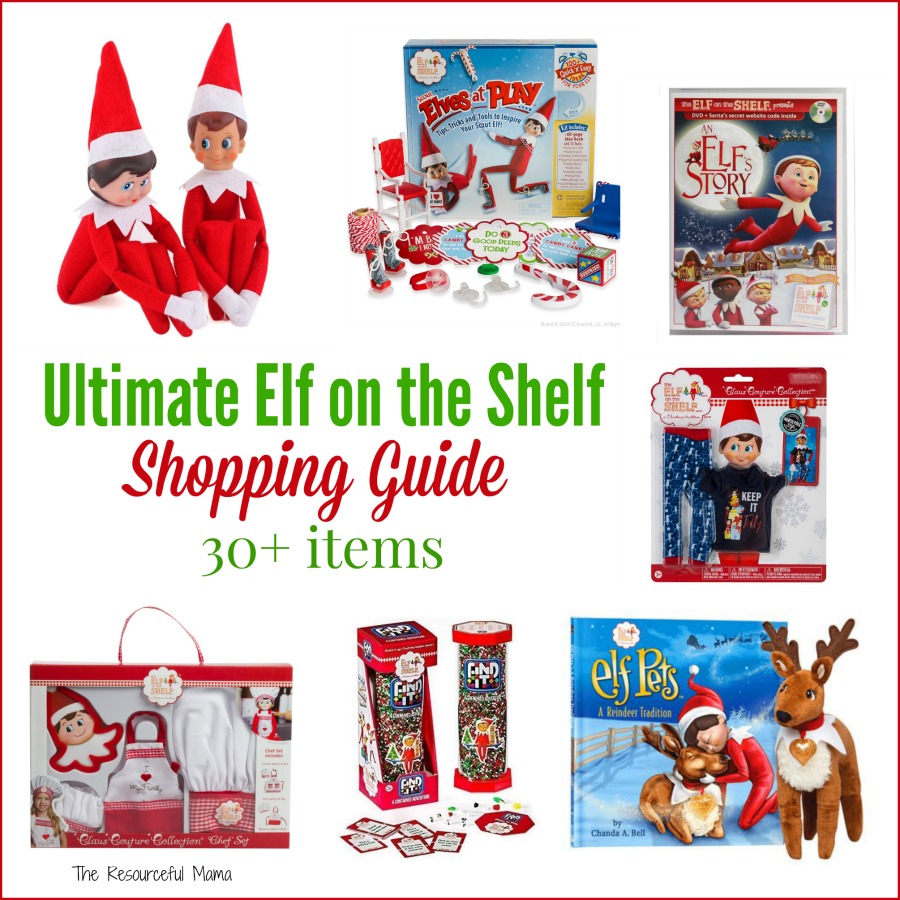 The markers of Elf on the Shelf do a great job marketing their products. You walk into most stores during the holidays and you are greeted by Elf on the Shelf merchandise. I try to divert the kids' attention, but it's like radar and they are soon zoned into the Elf on the Shelf items. I usually put them off and then come home and later sneak on the computer an order an item or two for our elf.
When I started looking this year, I was amazed at how much stuff their is for the elf and thought I would share all my great finds with you.
Elf on Shelf Dolls
Elf on the Shelf: A Christmas Tradition
Elf on The Shelf Plush Dolls, One Set (Boy and Girl)
The Elf on the Shelf Plushee Pal
I never really understood this one until I was reading some reviews on it one day. Some think the other elf is creepy looking. This one looks a lot more cuddly.
Elf on the Shelf Pets
We got the reindeer last year and the kids have fun cuddling it and taking turns sleeping with it.
Elf on the Shelf Pets: A St. Bernard Tradition Plush
Elf on the Shelf Pets Reindeer
Elf on the Shelf Activities
Elf on the Shelf Hide & Seek Game
Elf on the Shelf Scout Elves At Play Kit
30 Unique Magical Merry Elf Notes to Accompany Your Elf
The Elf on the Shelf: Activity Book
Elf on The Shelf Naughty or Nice Board Game
Find It Games Elf on the Shelf
An Elf's Story DVD
Elf on the Shelf Clothes
We have a few clothes for our elf and with a couple additions to our elf's wardrobe this year, I thought we had most of the gender neutral clothes available. Boy was I wrong! There's so many fun outfits for your elf!
Elf on the Shelf Graphic Tee Multipack Express Yourself Novelty
Elf on the Shelf Dazzling Dress
The Elf on the Shelf The Claus Couture Elf Snowflake Skirt
Elf on the Shelf Claus Couture Fa-La-La Footies Pajamas Set
Elf on the Shelf Dapper Tuxedo
Elf on the Shelf Claus Couture Caroling in the Raincoat
Elf on the Shelf Polar Pattern Set
The Elf on the Shelf Claus Couture Spirited Soccer Set
Elf on the Shelf Sleigh Rider Denim Jacket and Sneaker Socks
Elf On The Shelf Skirt Boot Set Scout Perfect Party Set
Elf on the Shelf Claus Couture Cute Puffer Vest
The Elf on the Shelf Claus Couture Jolly Jammies
The Elf on the Shelf Claus Couture Making Spirits Bright Nightgown
Elf on the Shelf – Rockin' Reindeer Skirt
Claus Couture Collection Game Day Jersey
The Elf on the Shelf Claus Couture Spirited Cheer Gear
Claus Couture Collection Chef Apron Set
Elf on the Shelf Claus Couture Twinkle Toes Tutu
The Elf on the Shelf Claus Couture Hip Holiday Wear
Claus Couture Collection(R) Little Chef Cookie Kit
Elf on the Shelf – Rockin' Reindeer Skirt
You Also Might Like