Today I am sharing another homemade kid ornament made from a recycled item.

This post contains affiliate links. See my Disclosure Policy for details.
I treated myself to a Starbucks cappuccino recently. My favorite is caramel macchiato. I don't buy them often, because of the price and calories, but I occasionally like to indulge.
The inspiration to make this Kid Made Snowman Ornament came as I was drinking my yummy cappuccino. My dilemma was that I have 3 kids and only 1 lid. I told my husband I needed to buy 2 more cappuccinos. He suggested that I just ask for a couple more lids, so I comprised. I bought one more cappuccino and asked for a lid. I was surprised to be given a stack of lids, so I need to come up with more coffee cup lid crafts.
Supplies:
Coffee cup lid
Small black button (2)
Orange pom pom
Small black pom poms (6-8)
Black ribbon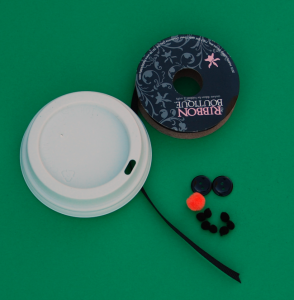 Directions:
1. If you are using a used lid, wash thoroughly.
2. Glue buttons on the lid for eyes, orange pom pom for nose, and small black pom poms for mouth.
3. Put a ribbon trough the hole where you would drink your coffee and tie at the top forming a loop to hang from the Christmas tree.
Note: Make this even easier by letting the kids draw the face on their snowman with markers or crayons.
You might also like: