We introduced our kids to Dr. Seuss books at a very early age and fun activities like this Red Fish Blue Fish Activity soon followed.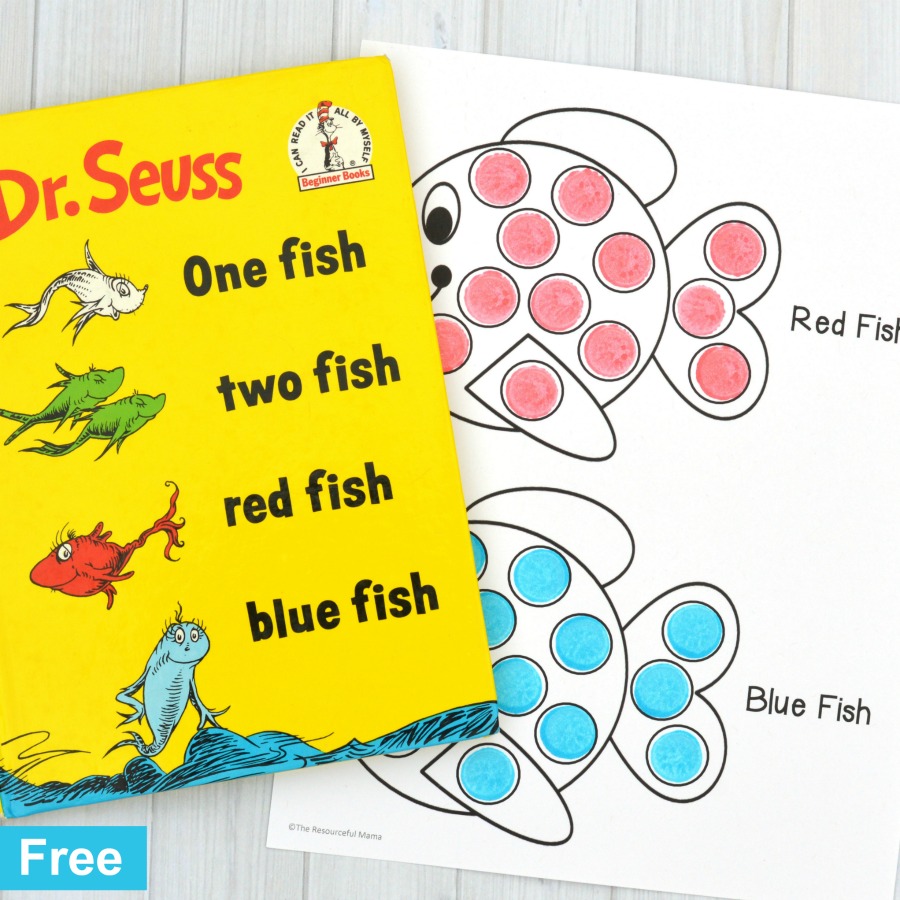 Soon after finding out that we had we had finally gotten pregnant with our first child, we stopped at our local Toys r Us. Did we buy baby furniture, diapers, or baby clothes? No, we came home with a handful of Dr. Seuss books. We received a fair amount of teasing from our purchases 🙂
This post contains affiliate links. See my Disclosure Policy for details.
Those Dr. Seuss books were favorites of ours growing up and something we have enjoyed sharing with our kids. Our Dr. Seuss collection of books has grown significantly from those first few books. The kids often pick one of those books for our nightly storytime.
They have grown to love many of the classic Dr. Seuss books like One Fish Two Fish Red Fish Blue Fish and enjoy activities like this Red Fish Blue Fish Activity

GETTING STARTED
I love how quickly you can set your kids up with this dot worksheet. There's minimal prep required to get started.
This Red Fish Blue Fish Activity includes one black and white worksheet with two fish. The top fish says red fish and the bottom fish says blue fish.
Download and print on regular 8 1/2 x 11″ paper.
Red Fish Blue Fish Activity
There are many ways you an use these worksheets. I have been blown away by all the creative ways people have used them.
We typically use Do A Dot Art! Markers for dot painting worksheets like this one.
If you don't have Do a Dot Markers, you could also use Bingo Markers or Pom-Poms. Use a clothespin and squeeze a pom pom for a DIY pom pom dot maker.
Another great idea is to fill in the dots with round stickers or pom poms. It makes these worksheets great for on the go as well as those times when you need a quiet activity to keep kids busy like doctor appointments and dining out.

Extend the Activity
Add a little math to the fun and count the number of dots on each fish.
Go back through the book and identify some of the rhyming words in the story.
Pull out the cupcake liners and make fish like these at The Kindergarten Connection.

You Also Might Like