Kids will love creating this fun Craft Stick Elf Ornament from a craft stick and pipe cleaner to hang on the Christmas tree. The highlight of this elf ornament is the fun whimsical hat made from a pipe cleaner.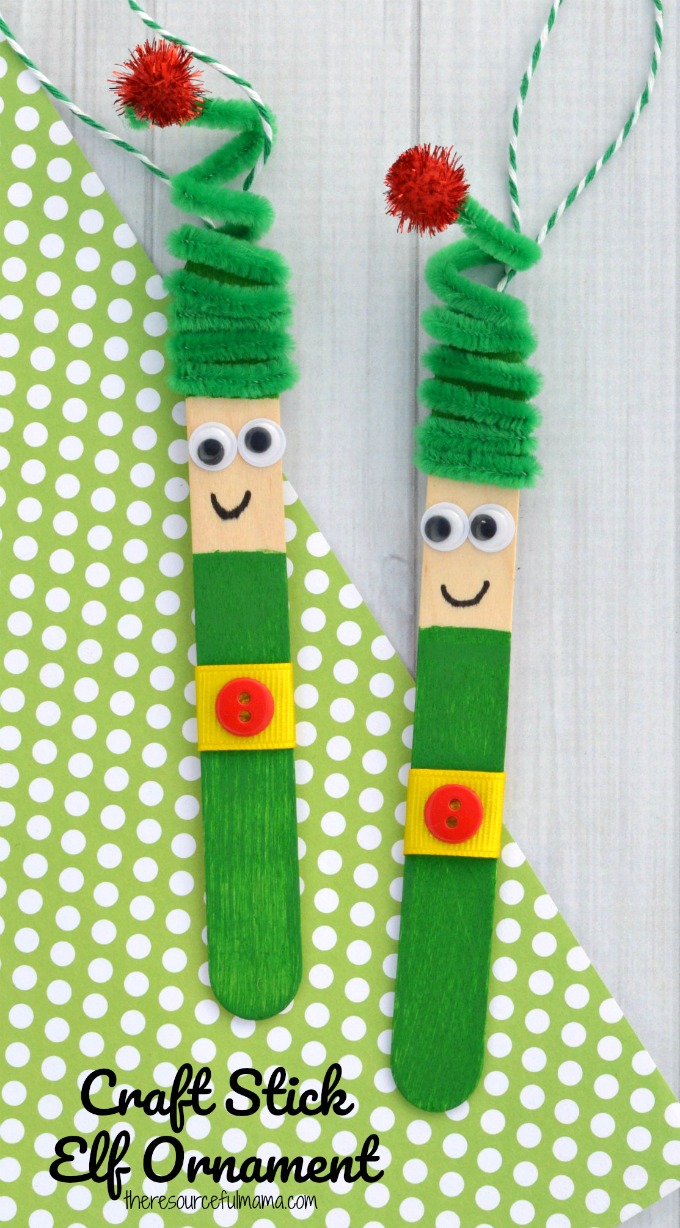 At this time of year, the elf (as in Elf on the Shelf)
is all the talk at our house. Our kids jump out of bed every morning anxious and excited to find their elf, John Fletcher, and see what he has been up to while they were sleeping.
The elf ranks right up there with Santa at our house, so it was only right that in our spree of craft stick ornaments that we create an elf ornament. This Craft Stick Elf Ornament came from the memory of Spiral Santa Hat I once saw. You can find my inspiration on here. I love the whimsy the pipe cleaner hat adds to our elf ornament.
Related: Craft Stick Reindeer Ornament || Craft Stick Angel Ornament
Supplies
Black marker
Sparkly red pompom (.5inch)
String
Directions
1. Start off by painting the craft stick green leaving a small part towards the top unpainted. Paint the top 1/4 green, leave a small part unpainted and then paint the rest green. Allow to dry.
2. Attach two googly eyes to the unpainted part of the craft stick and draw a mouth with the black marker.
3. Glue a red pompom to one end of a green pipe cleaner. We used a glue gun to attach the the pompom to insure it would stay in place.
4. Wrap a green pipe cleaner around the top of the craft stick to form a hat, so that the the end with the pompom is the top of the hat.
We wrapped the pipe cleaner around the craft stick and then took it off, so you can see how it is wrapped (picture below).
5. Glue a yellow ribbon around the craft stick near the center. Glue a red button to the center of the yellow ribbon.
6. Cut a small piece of ribbon, form a loop and glue to the back of the craft stick.
You Also Might Like