The whimsy pipe cleaner hat on this Craft Stick Santa Ornament is so fun! Kids will love to make this Santa ornament and hang it on the Christmas tree.
This post contains affiliate links. See the Disclosure Policy for details.
This Craft Stick Santa Ornament was inspired by a Spiral Santa Hat I once saw. You can find my inspiration on here. I love the whimsy the pipe cleaner hat adds to our Santa ornament. We did the same type of hat on our Elf Ornament.
Related: Craft Stick Reindeer Ornament || Craft Stick Angel Ornament || Craft Stick Elf Ornament|| Craft Stick Angel Ornament
Supplies
Directions
1. Start off by painting the craft stick red leaving a small part towards the top unpainted. Paint the top 1/4 red, leave a small part unpainted and then paint the rest red. Allow to dry.
2. Attach two googly eyes to the unpainted part of the craft stick. Pull a piece from the cotton ball, mold it to form a beard for Santa and glue to the craft stick.
3. Glue a white pompom to one end of a red pipe cleaner. We used a glue gun to attach the the pompom to insure it would stay in place.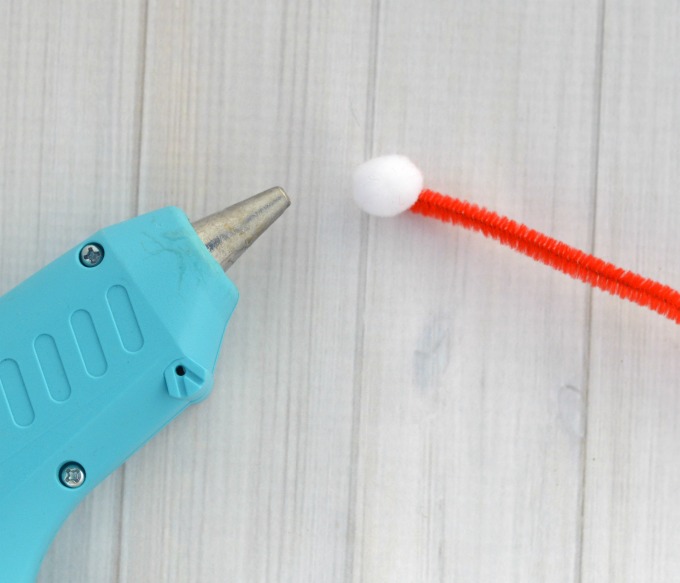 4. Wrap a red pipe cleaner around the top of the craft stick to form a hat, so that the the end with the pompom is the top of the hat.
We wrapped the pipe cleaner around the craft stick and then took it off, so you can see how it is wrapped (picture below).
5. Glue a black ribbon around the craft stick near the center for Santa's belt. Glue a yellow button to the center of the black ribbon.
6. Cut a small piece of ribbon, form a loop and glue to the back of the craft stick to hang the ornament.
You Also Might Like