Our daughter had a great time with the sorting apples activity I set up for her a couple of weeks ago, but it was just a little too easy for her, so I wanted to do an activity that would provide her a little more challenge.

This post contains affiliate links. See my Disclosure Policy for details.

This apple themed fine motor apple activity that I set up for her that also works on colors and early math skills. What I loved about this project is how easy it was to change it and make it work for our kindergartner or an older preschooler. All I had to do was change the top of the tree.
Supplies
We recently ordered the Fine Motor Tool Set
from Learning Resources and our kids love it! We used the tweezers and the yellow grabbers for this project. Our daughter loved using the yellow grabbers to pick up the pom poms and place them in the toilet paper rolls.
Directions
1. Fill plastic bin with red and green pom poms. I used enough to cover the bottom of the container.
2. Cut 2 slits into top of toilet paper rolls on opposites sides near the back.
3. Print 2 tree top templates on green paper. It's an apple, so you will need to cut off the stem and leaves. Turn apple upside down to form tree tops.
4. For a toddler or preschooler, glue red pom poms on one tree top and green on the other top. For a kindergartner or older preschooler (who recognizes the name of colors), use a black marker and write red on one tree top and green on the other tree top.
5. Insert tree tops into slits on toilet paper paper rolls to form the top of tree.
6. Cut a square from brown carstock that is slightly larger than the toilet paper roll and glue to the bottom of the toilet paper roll to form the base of the tree.
7. Add the toilet paper trees to the apple bin and fine motor tools.
8. Instruct your child to use the tools and match the apples to their tree by putting the apples (pom poms) into the tree (hole in top of toilet paper roll).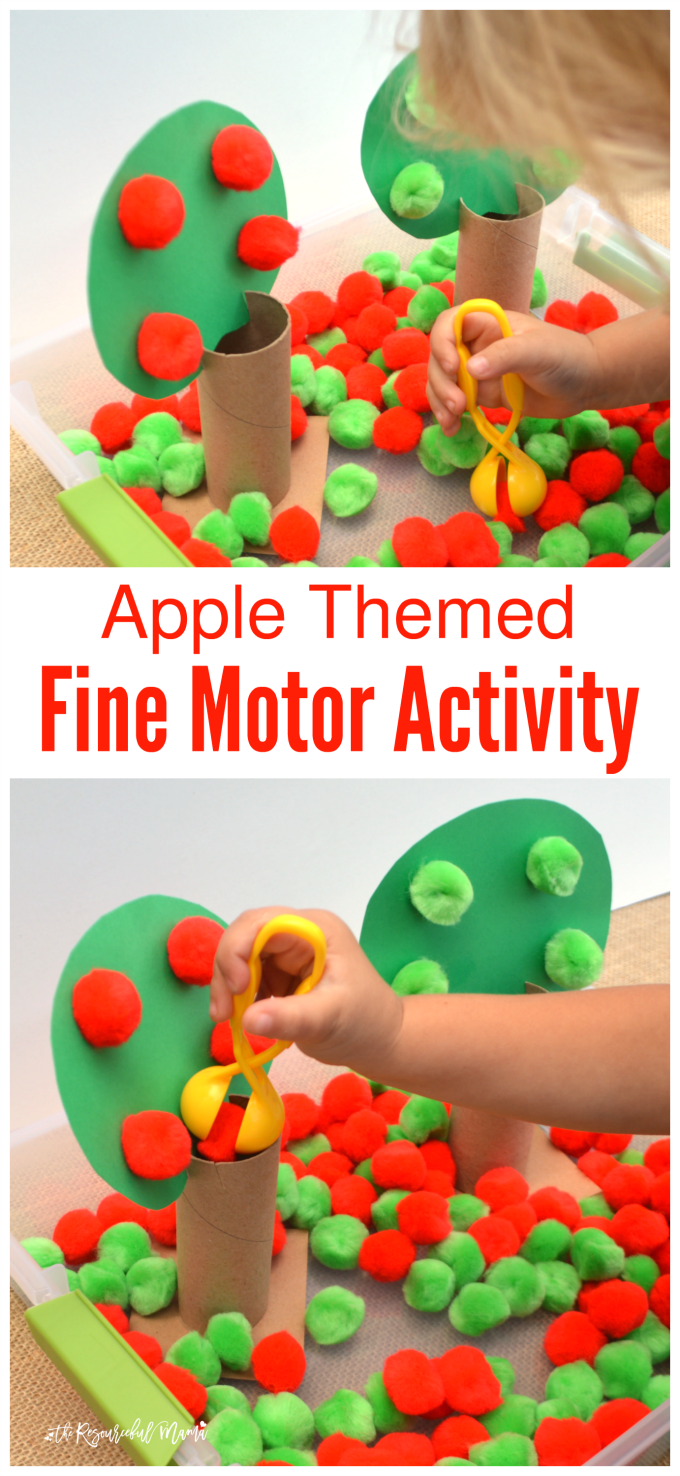 You Also Might Like
This post is part of an apple mini unit study that a group of bloggers with kindergartners put together. Be sure to check out the great ideas below.