When I was asked if I would like to come weekly and read a story to my son's preschool class, I jumped at the opportunity. I love that I get to do this special thing with him. As an added bonus his younger sister gets to tag along. She feels like she is part of the class for that short period of time I am there.
This post contains affiliate links. See my Disclosure Policy for details.
Each week I choose a book to read and come up with a craft or activity to go with the book. This week I chose One Mitten
by Kristine O'Connell George and couple of fun activities to go with the book.
The Book
I love how creative the girl in this book is. She uses her imagination to come up with lots of creative ways to use one mitten. This one simple object, a mitten, offers a lot of fun playful experiences for the girl. Then she finds the second mitten, opening the door to even more imaginative ideas.

Act out the Actions
A simple way to extend the story is have kids to act out the actions with their mittens. Encourage your child or students to get creative and come up with their own actions.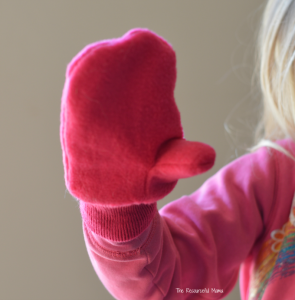 Play a Matching Game
This matching game is quick and easy to prep and can be played as a group or individually.
You will need: pattern for mittens and cardstock paper. The pattern offers colored or black and white mittens. If you choose colored mittens, print on white cardstock. If you use the black and white pattern, print on colored cardstock.
To get started print mittens and cut them out making sure to have a match for each mitten and one mitten for each child. You could ask your child or students to help with this task giving them scissor practice and work on their fine motor skills. Optional: Laminate the mittens to prolong their life.
To play as a group, give each child one mitten and instruct them to find the classmate with the match.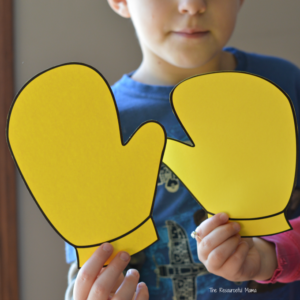 To play individually, lay the mittens and their matches on a table and encourage your child or student to find the matches. Once they have found all the matches, encourage them to count the number of pairs they have found.
Other Ideas for One Mitten
I love the reading skills and strategies offered by The Picture Book Teacher.
You Also Might Like