With it being so cold at outside this time of year, we tend to do more crafting than normal. I know hard to imagine! Snowman crafts are my absolute favorite crafts to make, so I rounded up some of my favorites to keep us busy and warm this winter.

Snowman Crafts for Kids to Make
If you follow along the image above the numbers start at the upper left corner and go right and then down to the next row.
This post contains affiliate links. See my Disclosure Policy for details.
1. Paper Plate Snowman Craft by Easy Peasy and Fun
2. Foam Cup Snowmen by Crafts by Amanda
3. Swirly Glue & Glittery Snowman Craft by I Heart Crafty Things
4. Puffy Paint Snowman by The Resourceful Mama
5. Fluffy Paper Plate Snowman by Stay at Home Educator
6. Melted Snowman Shape Craft Collage by Mom Inspired Life
7. S is for Snowman Winter Craft for Kids by Crafty Morning
8. Puffy Snow Paint Snowman by Growing a Jeweled Rose
9. Balloon Painted Snowmen by I Heart Crafty Things
10. Doily Snowman Craft by Craftulate
11. Paper Bag Snowman Puppet by About a Mom
12. Bubble Wrap Snowman by The Resourceful Mama
13. Paper Snowman by Easy Peasy and Fun
14. Egg Carton Snowman by I Heart Arts n Crafts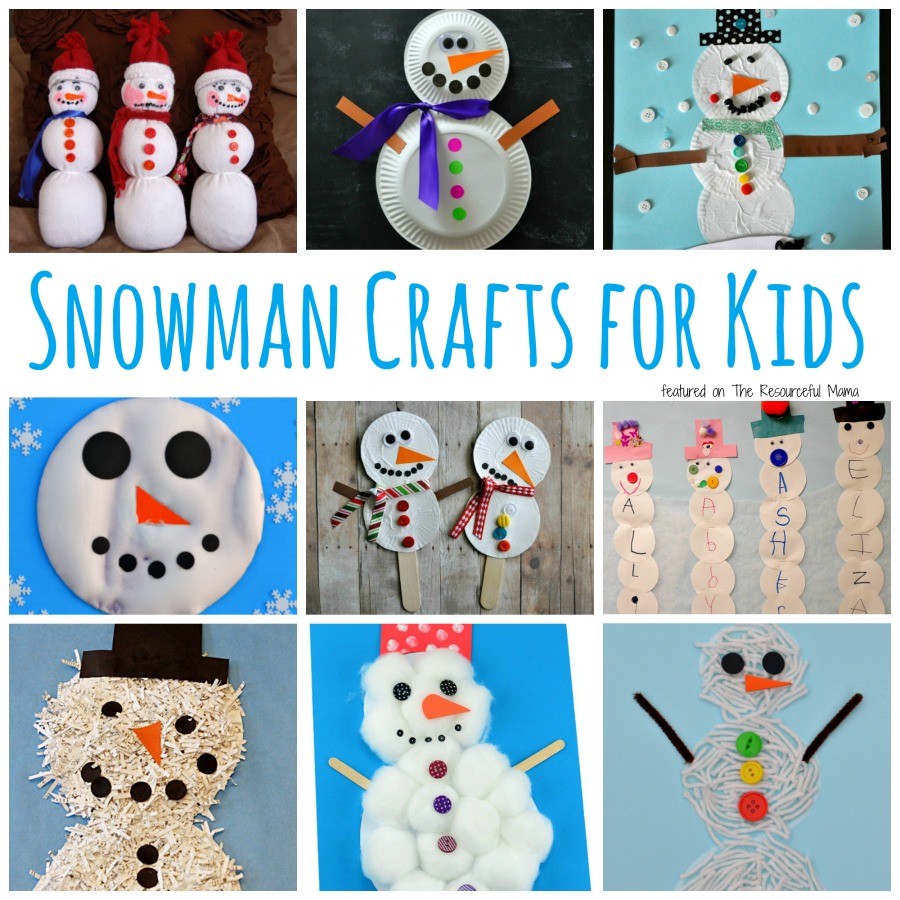 15. Snowman Sock Craft by I Heart Craft Things
16. Paper Plate Snowman by I Heart Crafty Things
17. Cupcake Liner Snowman Craft by I Hearth Crafty Things
18. Recycled CD Snowman by The Resourceful Mama
19. Snowman Stick Puppets by I Hearth Craft Things
20. Name Snowman Winter Activity for Preschoolers by Fun a Day
21. Shredded Paper Snowman by Housing a Forest
22. Cotton Snowman Craft by Easy Peasy and Fun
23. Yarn Snowman Craft by The Resourceful Mama
You Also Might Like