This Pom Pom Filled Christmas Ornament is a super simple and inexpensive ornament for kids to make that works on fine motor skills and hand-eye coordination.
The possibilities are endless with clear plastic ornaments. You can fill them with so many things! We found light bulb shaped clear ornaments and had so much fun filling them with colorful pom poms.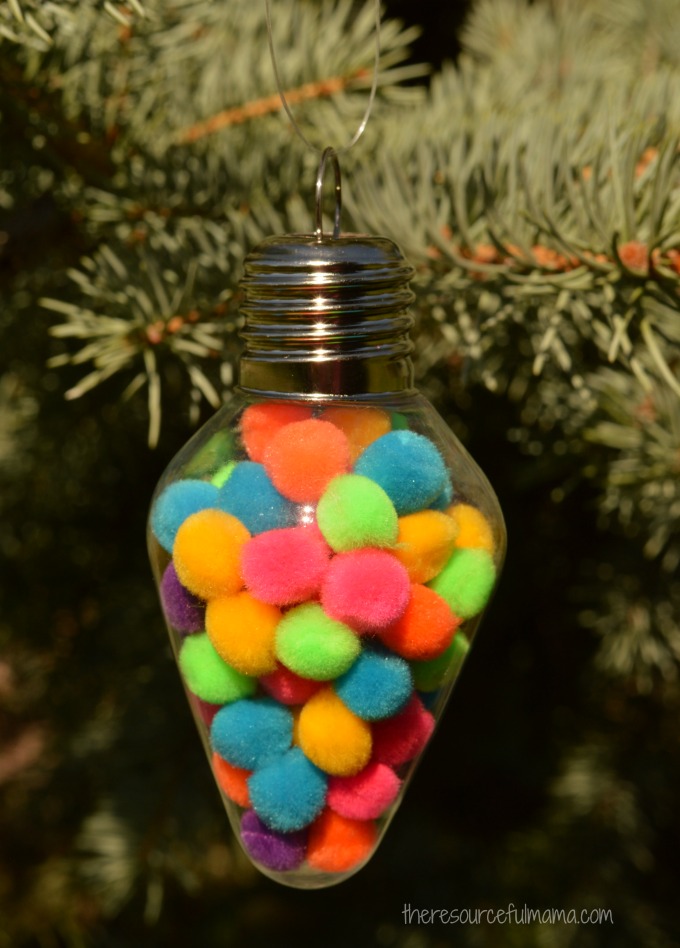 We have many family Christmas traditions. One of our favorites is making a homemade Christmas ornaments with our kids every year. Our Christmas tree is full of ornaments they have made. The kids get so excited when we pull those ornaments out of the box every year and beam with joy as we hang them on the tree.
Pom Pom Filled Christmas Ornament
This kid made ornament is super easy to make! It requires just two supplies, very little set up, and has easy to follow directions for even really young kids.
As an added bonus, kids are working on fine motor skills and hand-eye coordination as they pinch the pom-poms between their fingers, line them up with the hole in the ornament, and push them through the hole. That's big work for little ones!
Supplies
This post contains affiliate links. See the Disclosure Policy for details.
You could also use plastic ball shaped ornaments or whatever shape you might find.
Directions
1. To prep this kid made ornament, set out some pom-poms. We used a couple of different sizes; just make sure the size you have fits through the hole.
2. Remove the top from the ornament by gently pulling it off.
3. Instruct the kids to fill their light bulb ornament with pom-poms. Our kids used their fingers to pick up the pom-poms and put them in the ornaments.
If you want to offer a challenge, have the kids use one of those fine motor tools: Safety Plastic Tweezers for Children,
Easy-Grip Safety Tweezers,
Learning Resources Jumbo Tweezers.
4. Once the kids have filled the light bulb ornament with pom-poms. Squeeze the hooks on the ornament to put the top back in place.
5. Hang the finished ornaments from your Christmas tree or give it as a gift.
Extend the Activity
Take this a step further and ask kids to count the pom-poms or name the colors of the pom-poms as they add them to their ornament. Challenge kids to estimate how many pom-poms they think are in their ornament.
You Also Might Like