This Valentine's Day Estimation Activity is a simple, quick, and inexpensive game kids love playing at Valentine's Day parties.
I love doing the games for our kids' holiday classroom parties and with three kids in school now, I've done a lot of games over the years. As Valentine's Day approaches I found myself brainstorming new and exciting games and activities for the classroom parties. This Valentine's Day Estimation Activity is not a new game for our family, but it was not one I had done yet with my first grader's class.
Estimation activities are my go to games for holiday classroom parties. Kids love guessing how many items are in the jar and are always on the edge of their chairs, anxious to hear how close their guess is.
The Valentine's Day Estimation game doubles as a fun Valentine activity and a math challenge. Kids are practicing a real life skill with this Valentine's day estimation activity. We estimate often throughout our days without thinking about it when we are shopping, cooking, giving distance, and much more.
Here's the best part: it takes minimal supplies, is quick to set up, and easy to transport. Trust me, I've carried some pretty big and odd things into the school for classroom holiday games. The latest was two hockey sticks to play heart hockey. Finally it takes very little space to set up and play in the classroom. If you have don classroom games, you know that space is often limited.
Supplies
This post contains affiliate links. See the Disclosure Policy for details.
Jar or other see through container
Filler
Paper
Pencil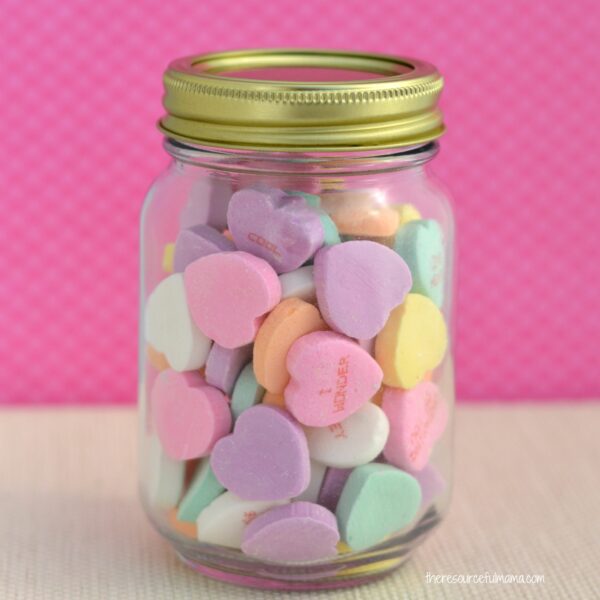 I used glass canning jars similar to these: Mason Canning Jars. You could also pick up a plastic container from the dollar store. For the filler, I used the large candy hearts. You could use Hershey Kisses or M&Ms; red and pink pom poms, buttons, beads; and much more.
HOW TO PLAY
You can set this Valentine's Day Estimation Activity up a couple of different ways.
I do this activity in the classroom during Valentine's Day parties and follow these steps.
1. Instruct the students to stay at their desk.
2. Give each student a piece of paper and ask them to pull out something to use for writing. I had cut out red and pink hearts from construction paper ahead of time and gave the students each a heart to record their answers.
3. Explain to the students that they are going to estimate (make a thoughtful guess) how many items are in each jar. If I have two jars, we usually do one at a time.
4. Walk around the room showing the students the jar.
5. Instruct the students to record their guess/estimation on the piece of paper. After everyone had recorded their responses, we went around the room and all the kids were able to read their estimation.
This class is not quite as competitive as our oldest child's class, but they had a good time guessing how many candy hearts were in the jar. They were on the edge of their sits listening as everyone read off their guess waiting for the answer and winner.
6. Reveal the answer and the winner. Most of the students underestimated the number of candy hearts, but one student was within seven.
After the candy hearts, we passed around another smaller jar filled with Hersey Kisses and many of the students were closer in their estimations. We declared the candy hearts a practice round 🙂
Sorry I don't have any pictures from the party. I'm always bummed that I don't get any pictures, but I haven't figured out how to run the party and take pictures at the same time yet.
Another way to play: You can also set the jar of candy hearts on a table with the paper hearts and have kids come up one by one and record their responses.
You Also Might Like