This printable winter bingo is a fun low cost, low prep activity that can be done at home when the kids are bored and stuck inside this winter or in the classroom. It's a great activity to use in the classroom for holiday parties and celebrations.
If you would have told me on Halloween that the month of January was going to start off really nice, with us playing outside as if it's a spring day, I would not have believed you. We had our first snow on Halloween (and no that is not common where we live). That was followed by a blizzard in November. I've been around long enough to know that this spring like weather is unlikely to stick around and we will likely find ourselves stuck inside looking for ways to stay busy. I'm just hoping the cold spell comes earlier rather than later (dear weather: I don't want a cold, snowy March).
Our family does a lot of games and puzzles in the winter. Bingo is one of our favorite games to pull out and play. We also like to use it for holidays and celebrations. Our kids think that every holiday and celebration must include games. We will likely be playing this winter bingo as a family for at least one of our winter birthdays.
Supplies
This post contains affiliate links. See my Disclosure Policy for details.
Printer (or print shop)
Paper
Bingo markers (I've listed several ideas below)
Scissors
Winter Bingo Game
paper trimmer (optional)
Laminator (optional)
Related: Valentine Day Bingo Game
What is included
When you download this printable winter bingo, you will get 15 bingo cards, three pages of bingo calling cards, and a cover page. Each of the 15 cards is different with 25 spots on each card. Included on each card is a: snow shovel, scarf, polar bear, sweater, ice skates, sweater, snow covered house, penguin, snowman,mitten, earmuffs, hockey stick and punk, igloo, snowflake, snowballs, fireplace, hot coca, hat, pair of mittens, icicles, snowshoes, snow covered tree, boots, snow skis, and sled.
Printing the Winter Bingo
The winter bingo game will download to your computer as a PDF.
You will need 19 pieces of 8 1/2×11 white printer paper to print this winter bingo game. I used our color laserjet printer and printed the bingo game on glossy paper. Card Stock Paper is another great option that makes it more durable. You could also laminate your bingo game and make it reusable.
Unless you use a full bleed printer, a white border will print around each card. This does not affect the game at all. I wanted it removed for this post and used a paper trimmer to cut the border off.
The calling cards will print with several on a page. Use scissors or a paper trimmer to cut these out.
How to Play
1. Give each person playing a bingo card and bingo markers.
2. Hold up one calling card at a time and allow enough time for players to locate the item on their card.
3. Players mark the item on their card with their bingo markers.
4. First player to get a row across, down or diagonal says bingo and wins the game.
You can purchase bingo chips to use as markers. I intended to use mini marshmallows for this, but realized I had none so we went with little white pom poms. Other items you can use include: bingo daubers
(the cards will not be reusable), small pieces of candy like M&M's, or buttons. We have also saved the lids to our plastic water bottles and used those as markers. There are lots of things you could use. What items have you used as bingo markers?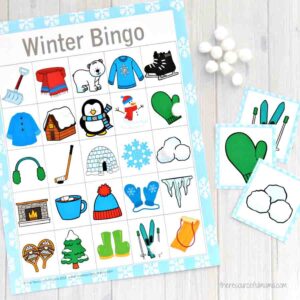 Download Winter Bingo Game
Available here:Winter Bingo Game
You Also Might Like