This Valentine's Day Bingo makes a great game for your Valentine's Day parties or fun family night activity. It's super inexpensive and quick and easy to put together.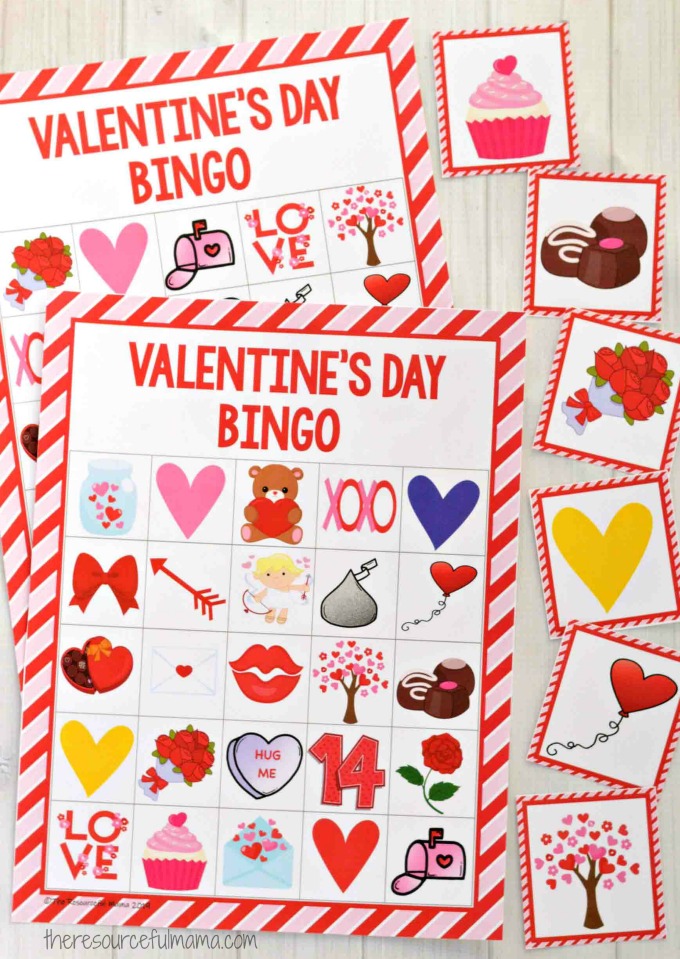 This post contains affiliate links. See my Disclosure Policy for details.
Between the three kids, I've been doing classroom parties for several year now and I love doing the crafts and games part of parties. Bingo is always a great go to party game and can be customized for every holiday. One of the best things about bingo is that I can stick all the supplies in a small bag. It doesn't require me breaking out out the collapsible utility wagon like I do when we play pumpkin hockey or our unwrap the gift relay race at Christmas. I always get looks when I come walking into the school with a black garage bag of wrapped boxes or carrying hockey sticks.
Related: Winter Bingo Game
SUPPLIES
Printer (or print shop)
Paper
Bingo markers (I've listed several ideas below)
Scissors
Valentine's Day Bingo Game
paper trimmer (optional)
Laminator (optional)
WHAT IS INCLUDED
When you download this printable Valentine Day bingo, you will get 15 bingo cards, three pages of bingo calling cards, and a cover page. Each of the 15 cards is different with 25 spots on each card. Included on each card is a: mailbox, bouquet of flowers, single flower, yellow heart, purple heart, red heart, heart balloon, teddy bear holding a heart, jar of hearts, envelope of hearts, white envelope, chocolates, chocolate kiss candy, cupid, arrow, cupcake, XOXO, LOVE, conservation hearts, container of chocolates, lips, heart tree, 14, pink heart, red bow.
PRINTING THE valentine day BINGO
The Valentine Day bingo game will download to your device as a PDF. You will need to have something, such as Adobe Reader, installed on your device to open the PDF.
You will need 19 pieces of 8 1/2×11 white printer paper to print this Valentine Day bingo game. I used our color laserjet printer and printed the bingo game on glossy paper. Card Stock Paper is another great option that makes it more durable. You could also laminate your bingo game and make it reusable.
Unless you use a full bleed printer, a white border will print around each card. This does not affect the game at all. I wanted it removed for this post and used a paper trimmer to cut the border off.
The calling cards will print with several on a page. Use scissors or a paper trimmer to cut these out.
HOW TO PLAY
1. Give each person playing a bingo card and bingo markers.
2. Hold up one calling card at a time and allow enough time for players to locate the item on their card.
3. Players mark the item on their card with their bingo markers.
4. First player to get a row across, down or diagonal says bingo and wins the game.
You can purchase bingo chips to use as markers. We used red M&M's candies for this bingo game. We used small white pom poms to play our winter bingo game. Other items you can use include: bingo daubers
(the cards will not be reusable), small pieces of candy, or buttons. We have also saved the lids to our plastic water bottles and used those as markers. There are lots of things you could use. What items have you used as bingo markers?
DOWNLOAD valentine day BINGO GAME
Available here: Valentine Day Bingo Game
YOU ALSO MIGHT LIKE