This Thanksgiving Turkey Craft uses a fun sponge painting technique on paper plates for the turkey's feathers that kids will love.
We are having so much fun with paper plate turkey crafts this Thanksgiving. If you are keeping track, this makes Thanksgiving turkey craft number 3 that we have made out of paper plates this year.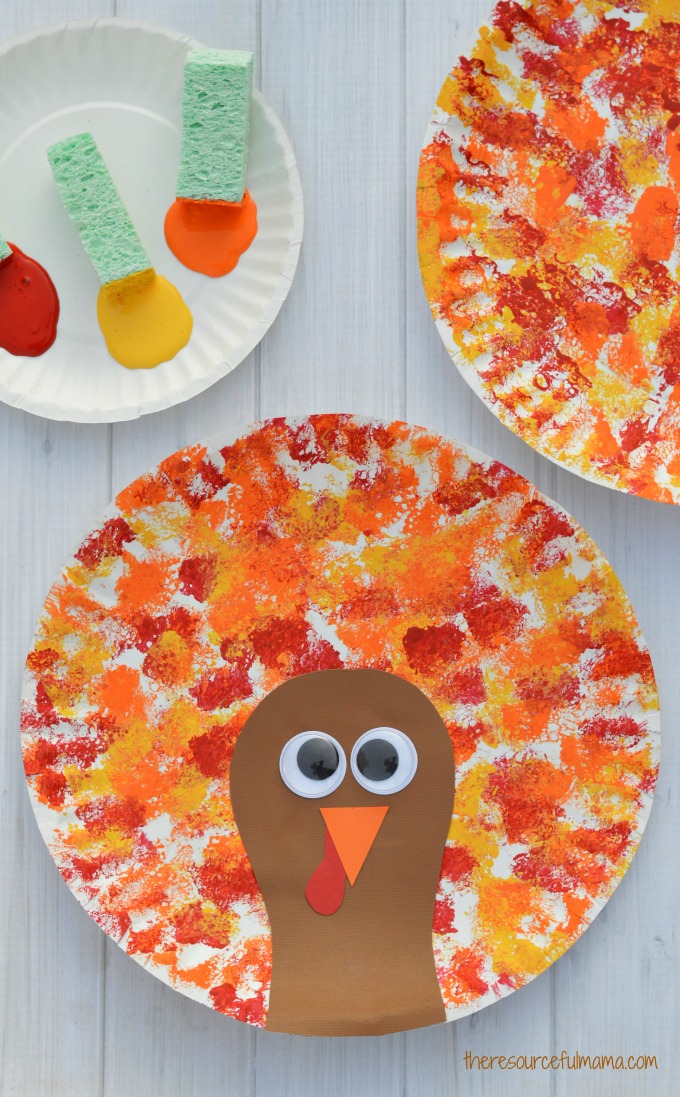 I love crafting with paper plates. You can do so much with them and they are super inexpensive. I always buy a pack of them from the Dollar Store and they last for awhile. (We do a lot of crafting.)
I love this technique of sponge painting…for crafts that is. When we bought our first home, painting techniques like sponge painting was very trendy. Of course we had to jump on the trend and sponge paint our bathroom. We lived with it for awhile, but it was not my thing and we soon painted over it. Anyhow back to sponge painting crafts with the kids and our Thanksgiving turkey craft.
Sponge Painted Thanksgiving Turkey Craft
Related: Paper Plate Turkey Craft | Paper Plate Turkey Wreath Craft
Supplies
This post contains affiliate links. See the Disclosure Policy for details.
Paper plate
Paint
Sponge
Paper
Glue
Scissors
Directions
1. Start out by cutting your sponge into strips. We just use the strips to paint, but you could also cut big chucks of sponge and use clothespins.
2. Prepare your paint. I usually let the kids pick out the colors of paint and pour a small amount of each onto a plate.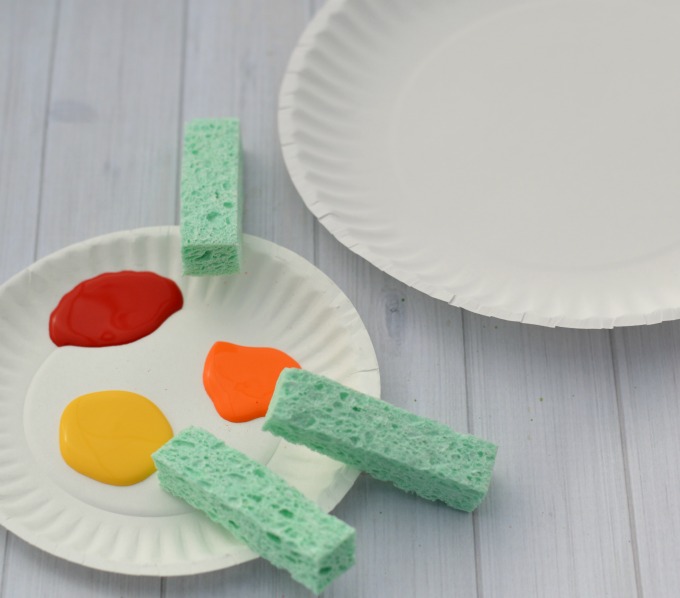 3. Dab your sponge into the paint and then dab onto the paper plate. Alternate colors until the plate is covered. Allow to dry. I have one child that likes to use her sponge like a paintbrush and tries to brush her paint onto the paper plate, always making her creations unique and her own.
4. While the paint is drying on the paper plate, cut a body for the turkey from brown paper. Glue the body to the bottom of the paper plate.
5. Cut out eyes (or use googly eyes), beak, and gobbler and glue to the turkey's body.

You Also Might Like